The Basic Components of Locks
03/31/2014
Back To Blog
Are you interested to learn more about your door locks and how they work? When you install a new lock, you expect to enjoy a secure home. Though, why are some bolts better than others? What are the main lock components and why deadbolt installation is mostly recommended instead of simple latches? It might not be to your interest to know the components of your cylinder lock but knowing the basics will not only help you choose the best possible security door locks but also secure your house better.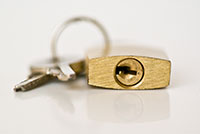 Learn more about your locks
Force entry can be prevented with good bolts and lock repair. Having knowledge of your lock's components will help you make the right decisions. Is it time to replace some parts, which are worn? Does the latch bolt extend fully? Should the cylinder be repaired? Is it time for lock replacement? Well, average locks have a doorknob, which locks and unlocks with a key from outside and locks and unlocks with a button inside the house which is either turned or pressed. Dead bolts have variations in doorknobs and some will need a key inside and out, too.
Dead lock installation is always preferred over simple latches. The lock mechanism actually consists of many parts: a cylinder followed by the latch assembly, a mounting plate that secures the rose plate, where the slot of the interior knob is secured upon. The latch or latch bolt will extend in order to find the hole of the strike plate, which is installed on the door jamb with screws. It must enter this hole and secure the door.
The difference between a simple latch and bolt latch is tremendous. Dead bolt latches are made of solid materials and will not retract if pressure is put on them. Simple latches won't be resistant to force and retract since they are made of softer materials and don't have equal resistance. When the key is inserted in the lock, it turns the cylinder plug, which activates the cylinder tumbler to extend or retract the bolt latch. It must fit perfectly in the lock to activate the mechanism and that's why key replacement must involve knowledge of which blank to use and how to cut key jaws perfectly.