4 Terrible Times to Be Locked Out Of Home
01/18/2017
Back To Blog
Suffering a home lockout is never easy. It can happen when you forget your keys, lose them while out or snap your only front door key in the lock. Here we talk about 4 miserable situations to be locked out of home. In such cases an emergency unlock service from a local locksmith is often the best option you'll have.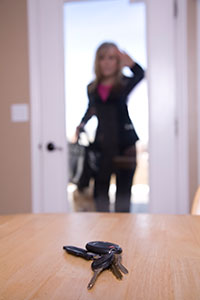 While with Children
We all know children can be hard work at the best of times. But being locked out of the house when your kids are waiting with you, tired, hungry and impatient to get back home, things can very quickly become quite unbearable. You'll need a safe way to get back in without having to leave your children alone. In these situations it can be best to wait for a locksmith to come and bypass your lock for you. In some cases they may be able to arrive sooner that you would expect.
After a Long Night Out
Whether or not you have had a lot to drink this situation is no joke. When you're cold, exhausted, alone and possibly drunk, you'll be dying for a solution that can arrive as soon as possible.
While Cooking Something
This can be a huge reason to panic. We are all guilty of leaving the stove now and then while we let something boil, roast or simmer away. It all gets a whole lot worse if you have to leave the house for a few seconds for some reason and then are unable to get back in. In this case you'll be desperate and the difference between alarm and chaos can be having a safe "go to" solution right away. Many locksmiths offer emergency services, which means they will try to reach you within as soon as possible. If your lock needs repair or you need a lock change, the technician that comes will be able to fit a new one and provide a new set of keys to go with it.
While Moving or Redecorating
It will be just as bad for any other situation where going in and out of your house is necessary throughout the day, especially if you are on a time schedule. All progress will be completely halted until access to your house is returned to normal. Every minute that goes by during the delay will be costing you and in such circumstances time seems to fly by at an alarming rate.